Posted on 1/17/2017
HyperSizer Express puts powerful, user-friendly optimization tool in the
hands of innovators in the bicycle industry—and beyond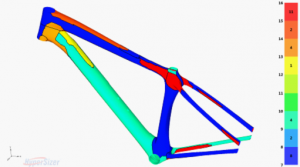 Image 1. HyperSizer Express analysis of composite ply count in a bike frame. Using computer software to support design ideas helps quickly prove out manufacturability, stiffness and durability at the lightest-possible weight.
HAMPTON, Va. (January 17, 2017)—Bertram Stier owns three mountain bikes with aluminum frames, but he's working to help enthusiasts like himself step up to more affordable, next-generation composite ones.
Leaving Germany in early 2016 to join Collier Research Corporation as an engineer specializing in composites design, Stier is combining his trail experience with advanced computing tools. He is certainly qualified, with two master's degrees in mechanical engineering (Structural Mechanics and Lightweight Design) and a Ph.D. candidacy in advanced composites materials analysis.
"I've been a very enthusiastic mountain biker for years," he says. "The future of bike design is moving towards optimizing the structure of every type of frame so it can be manufactured with the correct amount of stiffness and performance. This is exciting because bikes will increasingly be made from less material with shorter development times— and we'll all be able to enjoy the benefits of what are now considered exotic materials."
Stier's presentation at the December 2016 Cyclitech conference in Newport Beach, CA, "Facing the Challenges of Computational Composite Bike Frame Optimization," demonstrated the current state-of-the-art in design software. His audience included a wide variety of attendees interested in bike technology, from the smallest shops to large commercial players.
From aircraft wings and cars to bicycles and wind blades
Collier's NASA-spinoff HyperSizer software has been widely used in military and commercial aircraft and space-agency programs over the past 20 years.  Now the company has released a user-friendly "Express" version of its workhorse tool with the aim of supporting the growing number of other industries that are adopting composite materials to make lighter, stronger, more durable products.  These include automotive components, sporting goods such as snowboards and tennis racquets, medical prostheses, robotic parts, boats and wind turbine blades as well as bicycles.
Yet the company kicked off its new software launch with a bike example. Why? "To demonstrate the capabilities in Express, we chose to dive deep into the example of a bike frame because it contains aspects of all the challenges that we would see in many other industrial applications," Stier says. "The bike became pretty much our gold standard: we said that if we can do a great composite bike frame design, we can do a great anything.
"Although on many levels an aircraft wing is certainly more complex than a bike frame, there are some details in a bike—such as highly doubly curved surfaces and joint sections—that are actually more complex than in an airplane."
Composite material challenges
The complexities of designing with composites are many, of course.  The materials are made up of thin layers of polymers, often reinforced with carbon fibers as in the case of bike frames. When composite plies running in different directions intersect at the joints of a frame it can be difficult to correctly predict the ply-by-ply stresses and optimize to the large variety of applied loads on the structure.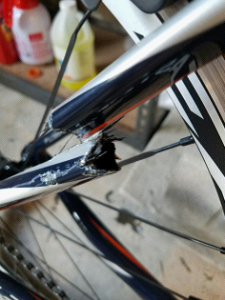 Image 2. A composite bike frame strut that broke in an accident. Composite materials combine light weight with strength, but designing them for optimum stress resistance can be a challenge.
"Traditionally there has been a lot of craftsmanship in bike-making but this involves many design-prototype-test-redesign cycles," says Stier. "That can take a long time and cost a lot of money, particularly when you go from aluminum to more advanced composites. Even after you've successfully prototyped your bike you still have to fatigue-test it with thousands of cycles and that takes a lot of time as well."
Designing-in best results
"Virtual design with the latest software tools can shorten product development time dramatically," he says. "An optimization tool like HyperSizer Express takes your manufacturing process into account and provides you with several options that prevent you from a result that is not damage tolerant.  You can define a variety of layup and design rules that will result in the most damage-tolerant design that uses the least amount of expensive composite material."
"We've now made this kind of modeling more accessible to a much wider range of markets and industries and engineers out there," says Stier. "You no longer need to be a professional in composites or optimization to be able to advance your design with Express."