HyperSizer Training Videos
---
Calling all HyperSizer Users — HyperSizer Training Videos are here!
---
Contact Us for access today!
If you already have an account for HyperSizer on Panopto, click here to log in and view the videos now.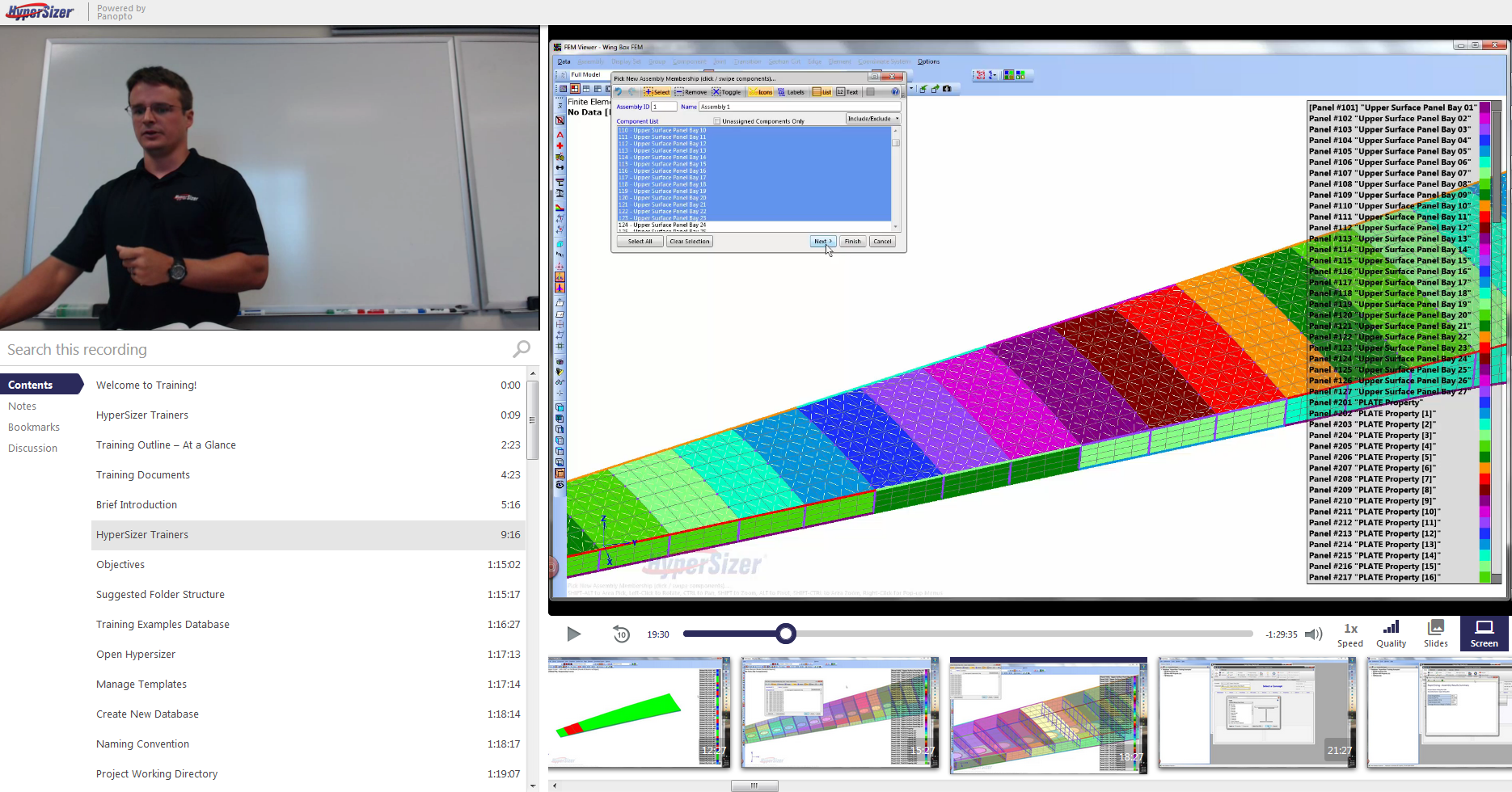 Get Started Now!
We are excited to share our HyperSizer Training Videos! We used a unique and searchable recording software that captures the presenter's screen, PowerPoint, and audio/video. You'll feel like you're in the training room, except with the ability to pause or speed up the class! It's never been easier to learn HyperSizer Software!
Go at your own pace (pause, rewatch)
No travel costs
Watch anytime (videos are on demand)
Videos are searchable
What will you learn?
Our collection of training videos highlight many of the features of HyperSizer Pro and HyperSizer Express. Choose the topics which interest you most or watch the entire series!
Training Benefits
Save time by reducing how long it takes to design/analyze/optimize your project and discover ways to apply HyperSizer at any stage
Increase productivity by learning "best practices" for deploying HyperSizer within your group
Learn from the best HyperSizer trainers, who bring their experience from running the software on real projects
Get up to date with the latest HyperSizer version and features
---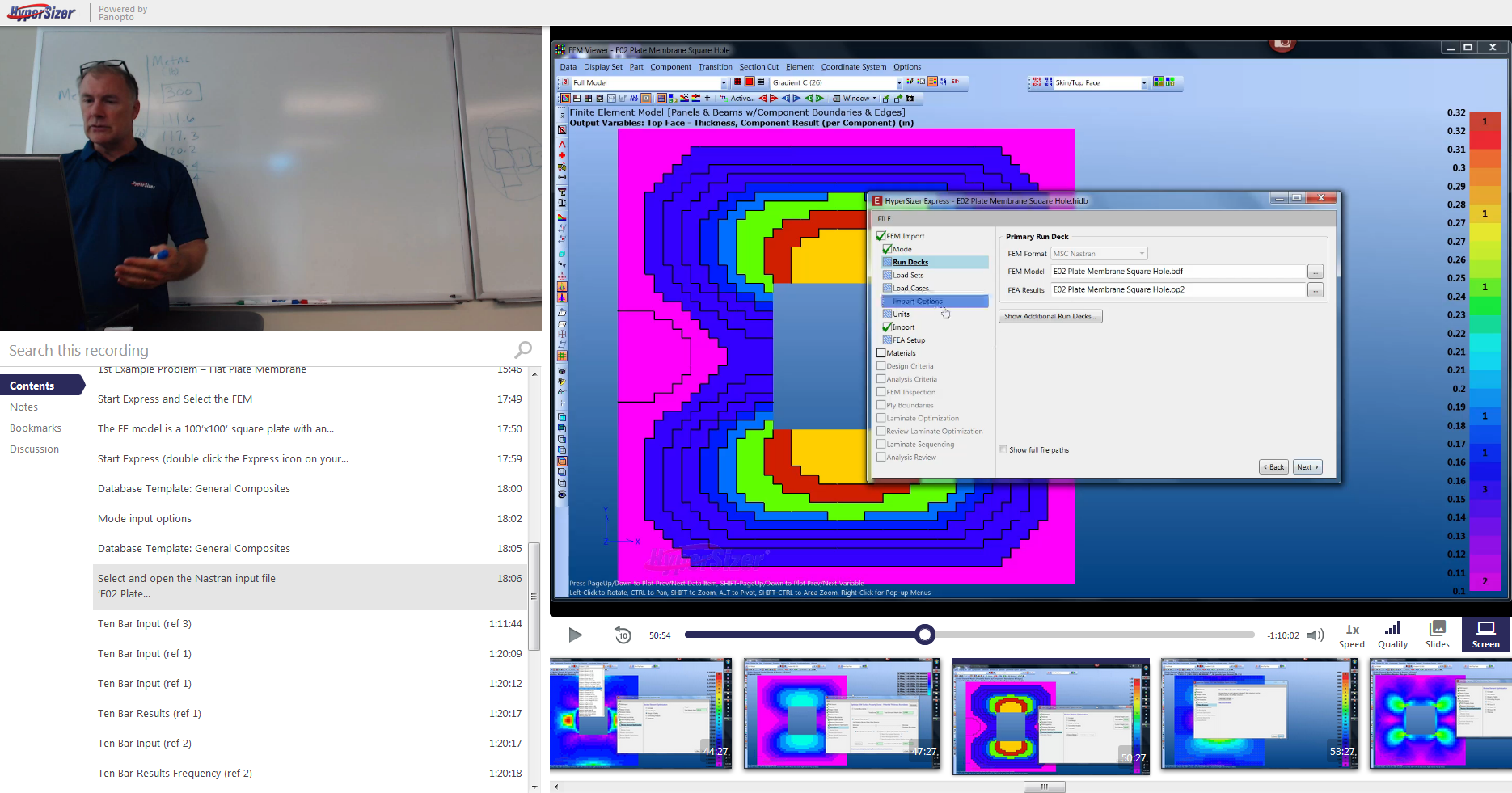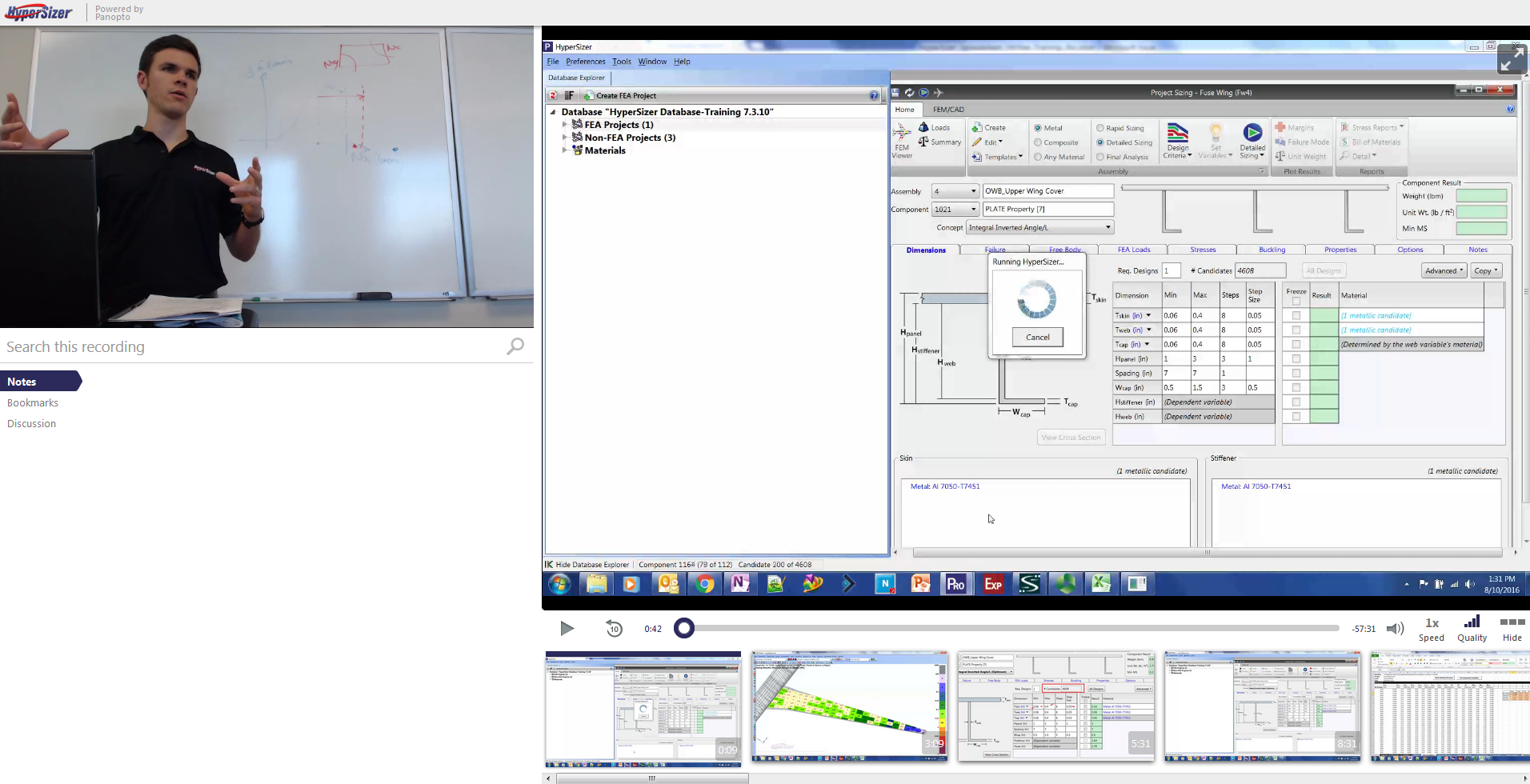 ---
Summary
Our training course is suitable for both novice and experienced HyperSizer Users. The course begins by reviewing the fundamental software capabilities for novice users and quickly builds to studying the advanced software features. The course material is structured so the users become proficient at driving HyperSizer while also fully understanding the analysis & sizing methodology behind the software.
And the best part… It's free for customers!
HyperSizer Instructors are
Day 1 Topics – Intro to HyperSizer / Materials
Rapid sizing of airframe structures
Managing material systems
Analyze/size composite laminates
Day 2 Topics – Stress Analysis
Free body analysis with non-FEA projects
Analysis methods
FEA verification
Day 3 Topics – FEM Integration
Coupling HyperSizer with FEA
Size large GFEM with thousands of load cases
Automatically generated stress reports
Day 4 Topics – Scripting & Analysis Plugins
Composite joints
VB programming integration
Automation and customization
Scripting and analysis plugins
Day 5 Topics – HyperSizer Express
Express introduction and analysis mode
Optimization task: strength vs. stiffness
Zone-based optimization
Ply based (high performance optimization)